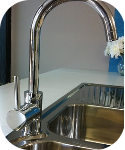 Text

Click on any image to view the total range of similar products.

Sinks and taps.

Sinks

There are many different sinks available in stainless steel. Bright shiney stainless steel is usually good quality stainless.

Corner mechanisms

Magic corner mechanism.

When a corner is forced to be blind and access is difficult to impossible then this mechanism comes into its' own. This gadget slides out its forward baskets then slides across and allows the rear baskets to again slide out and so you then have easy access to the entire contents stored in the unit at your fingertips

Pullout wire basket

Wire baskets

Pullout wire baskets have their purpose especially in narrow spaces when access is overcrowded and difficult.

Pullout bins

Bins

Waste bin have an important purpose, but it does not matter how large they are, they must be emptied otherwise they will begin to smell.

Handles

There are thousands of available handles but the most common and best are stainless or chrome plated which seem to pass the test of time without pitting or discoloring.

click and go.

Page List

Handles and Knobs.

Kitchen Cabinet Handles

which can be deliver them to your home.

Kitchen Sinks And Taps

We have economical priced, quality sinks, taps, laundry tubs. All good gear and most at an economical price.
---